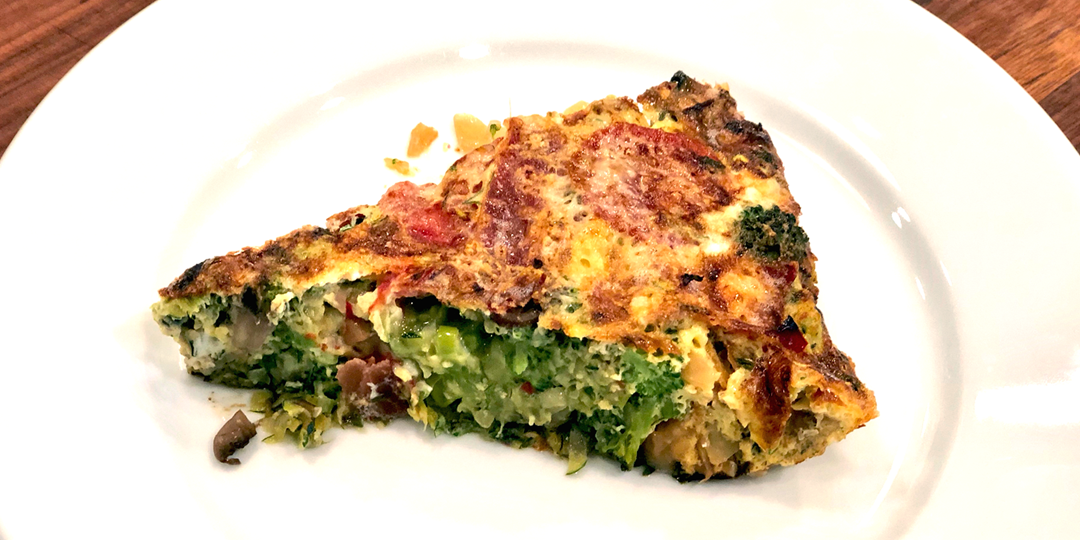 Vegetable Frittata
May 12, 2018
By Dina Meyer
"What's a frittata?"  A frittata is basically a cross between an omelet and a quiche.  Unlike the quiche, it's prepared without the milk/cream and crust, so it's healthier and has less calories.  It's also really filling, can be eaten hot, cold or at room temp, and is a wonderfully convenient, nutritious and delicious meal/snack that can be eaten just about anywhere, at anytime of day.  Earlier this week, I made my first frittata.  Uncertain of exactly how it was done, I did a little research, and decided to take a stab at it.  I mean, how hard could it be?  It's basically an omelet, that you don't have to flip, that starts on the stovetop and finishes in the oven. Lemme at it!
I made mine from scratch, using all fresh ingredients, but one of the beautiful things about a frittata, is that you can really put whatever you want in it. Leftovers in the fridge that you want to get rid of can find a happy little home inside a frittata.  Below is the recipe I came up with.  Try this one, or if you're feeling like taking a step off my path, feel free to play around and add/substitute some of my ingredients with some  of  your favorites. Just remember to cook them first.  Vegetables taste better when they are cooked before assembling the frittata.
Ingredients:
2-3 cups broccoli cut into small florets

3-4 zucchinis grated

6 green onions (diced) 

2 garlic cloves (minced) (divided)

1/2 sweet onion (small dice)

1/2 cup *ham, bacon, pancetta, prosciutto (cooked and chopped)  

8 oz brown (Crimini) mushrooms (diced)

1/2 cup Gruyere cheese (grated)

1 tomato (thinly sliced)

3-4 TBS olive oil divided (avocado or sunflower oil can be used as well)

1 TBS tarragon

1 TBS parsley

7 eggs 

2 TBS unsalted butter

salt and pepper to taste
*Vegetarians, substitute mushrooms for ham.
Directions:
Set oven rack about 6 inches below the heating element, and preheat to BROIL. 
In a medium bowl, clean and grate the zucchini.  Add 1 tsp of salt and mix thoroughly. Set aside.
On the stovetop, in an oven safe 10″skillet over medium heat,  add 1 TBS oil, and cook ham.  Remove at desired crispness, and place on paper towels to absorb excess grease. Once cool, break the prosciutto into little pieces. Set aside.
In same pan, add 1-2 TBS oil, and broccoli.  Season with salt and pepper and cook for about 5 minutes, stirring occasionally.  Add 1  (minced) garlic clove and continue sautéing until broccoli is tender. About 2 minutes. Remove from pan and set a side in a large bowl.  In the same pan, add 1 TBS oil, 1 TBS butter and cook the mushrooms.  After 3 minutes, add the remaining garlic, and sauté until mushrooms are tender and have some color on them. Remove from heat and add to cooked broccoli. Return pan to heat, and add 2 TBS of oil, along with the onion.  At this point, the zucchini will have a lot of liquid at the bottom of the bowl from the salt.  In small batches (about a handful) squeeze out as much liquid as you can before adding the zucchini to the pan.  This will keep your frittata from becoming watery, and bring out lots of the delicious zucchini flavor. Continue this process until all zucchini is in pan.  No need to add anymore salt. Sauté with the onion for about 5 minutes, or until mixture looks dry and some color has appeared on vegetables.  Remove from heat and add to broccoli mixture.
In a medium bowl, whisk together 7 eggs. Season with salt and pepper, tarragon, parsley, or your favorite herbs.  Set aside.
Though it is not necessary, I like to rinse out the pan, before assembling the frittata.  Use butter, (or a nonstick cooking spray) to grease the pan.  Over a medium heat, add the broccoli and zucchini mixture, ham and sliced tomato. Add the eggs.  With a spatula, press the vegetables down into the pan so that the egg mixture is covering most of it.  Top with grated cheese.
When eggs start to set but are still a little wet on top, remove from stovetop and finish cooking under broiler until cheese is bubbling and starting to brown.  Eggs should be firm.  About 2 minutes. 
Remove from oven, and let rest for 10 minutes.
This dish can be made ahead, enjoyed hot, cold or at room temperature, and is a delicious snack ANY time of the day. A perfect meal for people on the go, or for those who have little time to prepare a healthy, and satiating meal.
6-8 servings
(note: If halving the recipe, use a smaller pan)
P.S. I made this again yesterday and this time, added (to the original recipe) sautéed shaved fennel and red bell pepper.  It came out delicious.  Don't be afraid to try adding your favorite (cooked) vegetables.)
Don't wait for posts on social media!  Scroll down and click the BOX below the comments section to receive email notifications when new recipes, videos and production updates are posted.