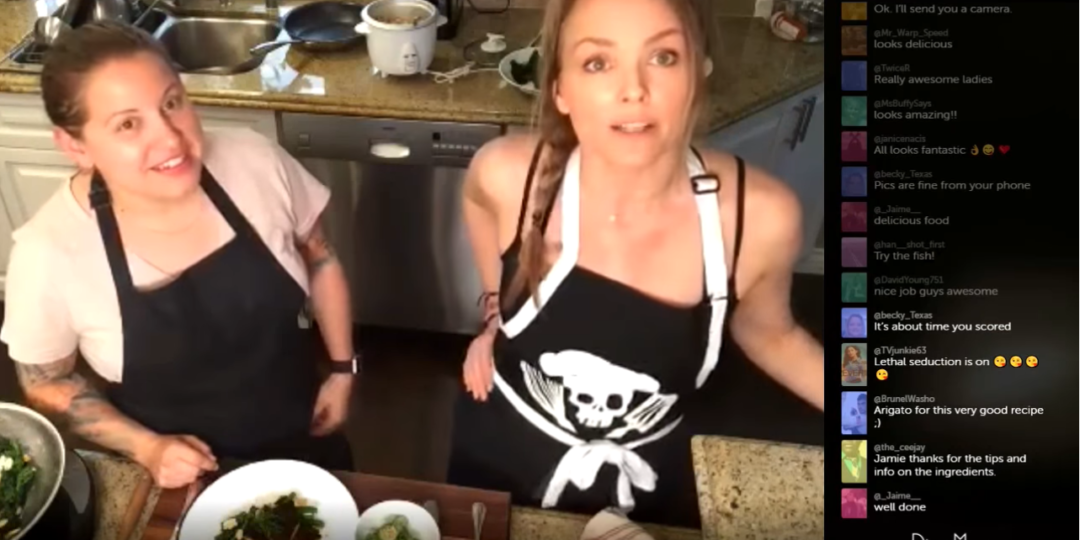 "In the Kitchen with Dina" welcomes back Chef Jamie Lauren
That's right, we're back!
The follow-up episode to "In The Kitchen with Dina" (featuring my good friend,  Chef Jamie Lauren), is back by popular demand.
On August 26th, we're going to be cooking up something for everyone.  From the carnivore, to the vegetarian, to the vegan, as well as the carb and fat watchers, alike.
This weekend, Chef Jamie's going to show me how to make a couple of healthy and delicious, light snacks that are perfect for summer!
There will be some marinated tofu, and there will be some chicken.  We'll even throw in some delicious rice noodles.
Lettuce cups and spring rolls, accompanied by a stunning peanut sauce, that'll make even the great, Gordon Ramsay proud.
YES! Color me "ALL ABOUT IT," and in it, to eat it!
So tell a friend and get those questions ready.  We'll try to answer as many as we can, and we'll do it LIVE from my kitchen, while we cook, talk, eat, laugh and learn simultaneously.
It's all happening Sunday at 3pm, and it'll be happening LIVE on PERISCOPE.
Follow me on social media (links are below), for updates on time.
We hope you'll join us;
and by all means, please go ahead and share this post with anyone who you think might enjoy the show.
We'll see you Sunday!
Don't wait for posts on social media!  SUBSCRIBE by clicking the BOX below the comments section to receive email notifications when new recipes, videos, productions and appearance dates are posted.
Only have one account- and that one ain't it!

Thanks for reporting, Eric :)
Correct!
I ONLY have ONE Instagram account, and this is it:

>>> https://www.instagram.com/dinameyer/ <<<
Load More...
Instagram
[instagram-feed num=9 cols=3]