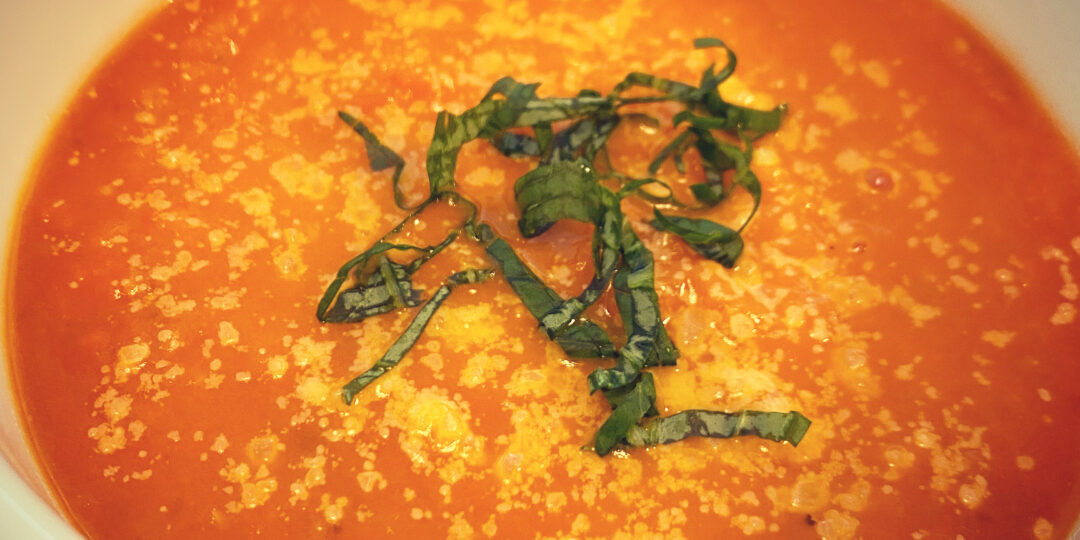 Tomatoes must be in season, because I found myself buried in what seemed like a mountain of them during a recent trip to Costco.  I was never much of a tomato fan, although I've always enjoyed a nice marinara sauce or salsa.  I'd always preferred them cooked.  Nowadays, if they're sweet and juicy enough, I'll eat them raw,  typically with olive oil in a bruschetta, Caprese salad, or paired with some crunchy Persian cucumbers.
Having said that, I found myself admiring this mountain of gorgeous tomatoes.  But what to do with FOUR POUNDS of them?  Remember I'm at Costco.
If I make a sauce, there's going to be some kind of pasta involved, and I've been trying to cut down on simple carbohydrates lately.  Sure, there are plenty of high carb substitutes, but I just wasn't feeling it on this particular day.
What about a tomato SOUP?  Great!  Only thing is, I've never made it before.  Mom never made it, so I never learned how.
Up for the challenge, I decided I would make one.
Not one to follow recipes much, I searched on line, got the basic idea as to what went into it, grabbed my favorite ingredients and came up with the recipe below.
I hope you'll try it and enjoy it as much as I did.
TOMATO SOUP
Ingredients
Approx 1 qt. of "mirepoix" (carrot, celery, onion mixture below)
3 carrots diced,
2 celery stalks diced,
1/2 onion diced
3 shallots chopped
2-3 cloves garlic minced
2 TBS olive oil
2 lbs grape tomatoes (halved)
32 ounces chicken or vegetable stock or bouillon
splash of white wine
salt and pepper to taste
sprig of fresh basil
Rind of Parmesan cheese
julienne basil leaf (for garnish)
grated Parmesan cheese (for garnish)
Directions
Heat pan over medium heat. Add olive oil, mirepoix and shallots.  Season with salt and pepper and saute until soft. (about 5 min.)
Meanwhile, slice tomatoes in half and set aside.
Add garlic to the mirepoix and stir, but do not burn- (1-2 min)  Stir in tomatoes.
Add chicken or vegetable stock, and white wine, sprig of basil and parmesan rind.
Bring to boil, then reduce heat and simmer for 20-25 minutes.
Remove basil and what's left of the rind.
Blend remaining ingredients with a stick blender.  Most of the tomato skins will be removed with the blender which should be discarded.  Soup can be put through a food mill to get out the rest of the bits.
Garnish with fresh basil and grated parmesan cheese…
And that's it!
Low calorie, low carbohydrate, super easy, delicious and very nutritious.
Bon Appetit!