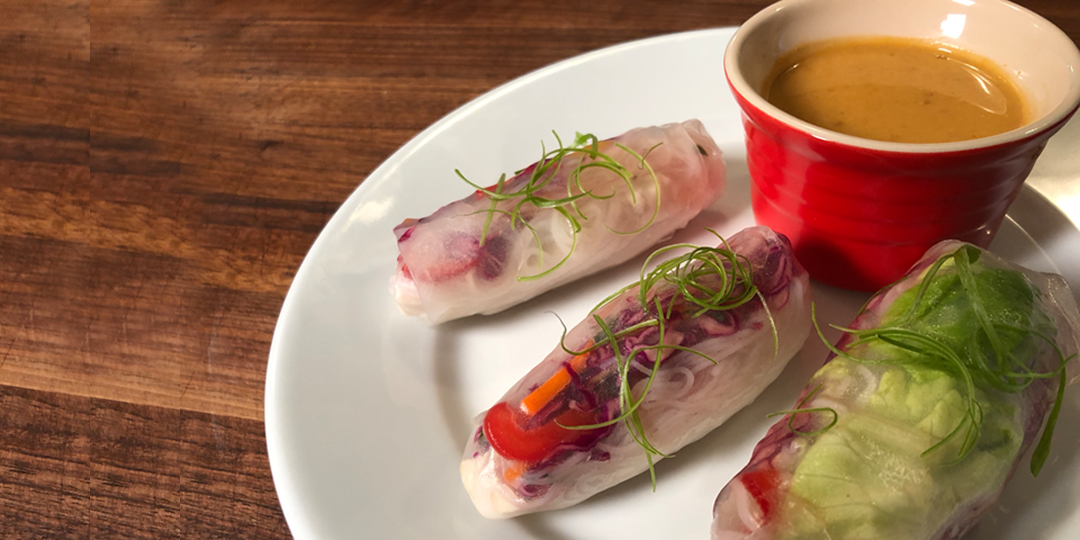 Marinated Tofu and Chicken Spring Rolls and Lettuce Cups with spicy peanut sauce
Last Sunday, I had the pleasure to have my good friend, Chef Jamie Lauren back in my kitchen.  Having just returned from a trip to Vietnam, she brought along with her, some South East Asian inspired dishes to share with me.Delicious, healthy and fairly simple to prepare, these tasty morsels will satisfy even the pickiest of eaters.   All ingredients can be used or not, depending on your preference.
For the vegetarian or vegan, wraps can be made with tofu.
Chef Jamie and I did a LIVE cooking demo which we streamed on Periscope.TV .  In a few days I  will be adding the video to this post and on my  YouTube channel .
In the meantime, you can still watch our demo on Periscope .
Enjoy!
Marinated Tofu
1 TBS white miso

1 tsp garlic

1 tsp ginger

1/4 soy sauce

1/2 cup rice wine vinegar

3/4 Cup peanut oil

1 block extra firm tofu cut 1" slices (about 6)
In a small mixing bowl, combine all ingredients except oil.  Slowly whisk in oil.  Add tofu and set aside, and let marinate for 4-6 hours, or overnight for best results.
Poached Chicken
2 boneless, skinless chicken breasts

1 stalk of lemongrass, cut into 2 in pieces.

2 inch piece of ginger sliced

3 cloves garlic smashed

4 pieces of star anise

chicken stock to cover chicken

salt to taste.
Place all ingredients into a small saucepan.  Bring to a boil, cover and turn off heat.  Allow chicken to cook for about 15 minutes, or until chicken is cooked.
Peanut Sauce
1 TBS peanut oil

3 TBS onion minced

1 TBS garlic minced

1 TBS ginger minced

2 TBS red curry paste*

1 1/2 cups chicken stock

1 CUP peanut butter (Skippy or Jiff preferred)

1/4 cup coconut cream

4 TBS roasted unsalted peanuts (chopped)
In a small saucepan, over medium heat, heat oil.  Add ginger and onion, season with a pinch of salt and sweat until translucent. Add curry paste and toast for about 1 minute. Add chicken, and bring to a boil.  Remove from heat, and whisk in peanut butter until smooth.  Add coconut cream and adjust seasoning as needed. Mix in peanuts for texture.
*May contain shrimp. Those with shellfish allergies should omit the curry paste.
Tangy Slaw
1 cup of red cabbage shredded

1/2 yellow onion, julienned

1/2 red bell pepper julienned

1/2 yellow bell pepper julienned

1 carrot julienned

1 fresno chili julienned (remove seeds if heat is an issue)

6 leaves of basil chiffonaded

6 leaves of mint chiffonaded

Juice of 1 1/2 limes.
In a mixing bowl, combine all ingredients with 1/2 TBS of kosher salt.  Let macerate for 10-15 minutes.  Add lime juice and set aside.
Extra ingredients needed for assembly
butter lettuce for spring rolls

iceberg lettuce for lettuce cups

rice noodles- follow instructions on package

rice paper- follow instructions on package
Directions:
Moisten rice paper wrapper with lukewarm water for about 10-15 seconds.  Place on damp dishcloth.  Wrapper will continue to soften as you assemble it. Place desired ingredients into butter lettuce leaf and place onto wrapper.  Gently roll one side around the lettuce ingredients.  Make the roll as tight as possible, being careful not to tear it. Fold in sides and then, with one final roll, the spring roll is complete.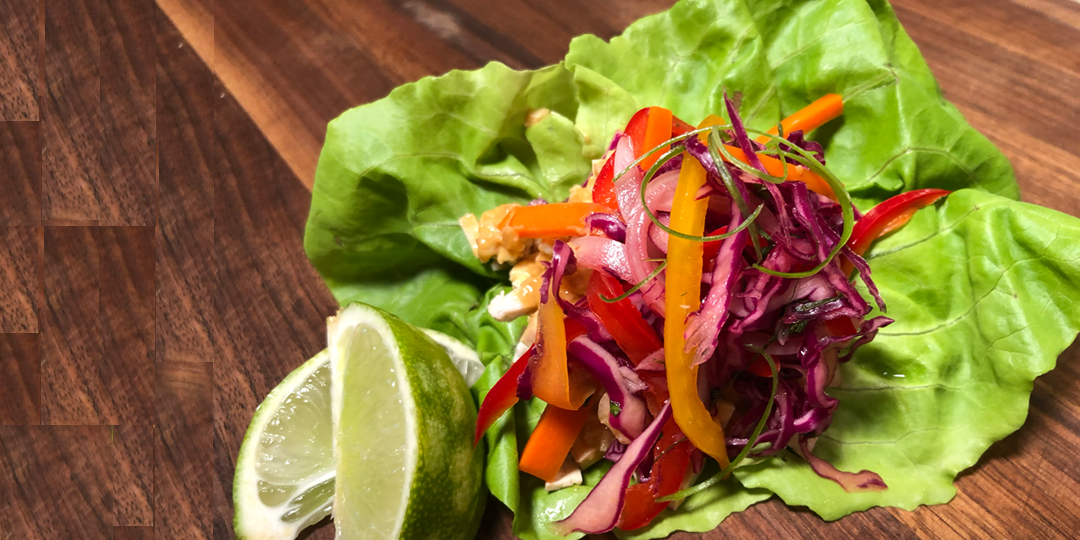 Lettuce Cup Assembly
Using a lettuce cup as your base, add above ingredients of your choice, and place on top. Top with peanut sauce, and enjoy!
Don't wait for posts on social media!  SUBSCRIBE by clicking the BOX below the comments section to receive email notifications when new recipes, videos, productions and appearance dates are posted.