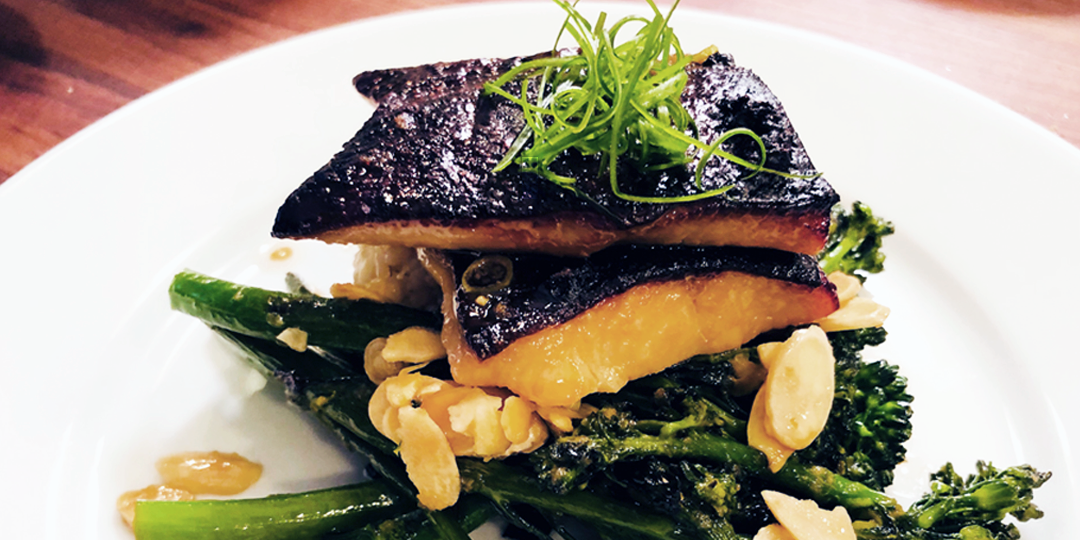 Miso Black Cod with sautéed broccolini & shishito peppers
Apr 26, 2018
By Dina Meyer
Anyone who knows me, knows that I have a passion for cooking; Which is really great, because it compliments my passion for eating quite nicely. 🙂
Last weekend, I had the good fortune to have my friend, Chef Jamie Lauren stop by.  Not only did I get a few cooking tips, but I also got to hang out with my pal and have some fun in the kitchen.  We had a great time.  The meal was delicious and incredibly flavorful; and as promised, the recipes and live demo have all been posted below.
As always, questions and comments are welcome and can be left in the comments section at the bottom of the page.
COOKING INSTRUCTIONS:
Miso Black Cod
1 lb black cod fillets skin on
For the marinade:
1/4 cup mirin
1/4 cup sake
4 TBS white miso
1 TBS low sodium soy sauce
3 green onions cut into 3 in pieces
In a small saucepan, combine all ingredients and bring to a boil.  Reduce heat and simmer for 3-4 minutes stirring occasionally. Refrigerate or let cool.  Once cooled, pour over fish, and let marinate 2-3 days.
Preheat oven to BROIL-
Wipe off any excess marinade from fish, and place (skin side UP) on a foil-lined baking sheet. Broil for 5-7 minutes or until skin has browned. Be sure to watch that it doesn't burn.
Sesame-Soy Vinaigrette
4 cloves of garlic grated
1 tsp ginger grated
1/2 cup rice wine vinegar
1/4 cup low sodium soy sauce
1/8 tsp yuzu koshu
1 TBS agave, honey or brown sugar
1 TBS green onion minced
2 TBS sesame oil
3-4 TBS avocado oil
sliced toasted almonds (optional)
salt to taste
Combine all ingredients except oils. Slowly whisk in oil. Taste and adjust seasoning as needed.
Toss with blanched broccolini and almonds.
Cucumber Salad
6 persian cucumbers- sliced THIN (mandolin works best)
1 1/2 TBS kosher salt
Salt cucumbers and set aside for 10-15 minutes. Squeeze out excess liquid, and then drizzle with the following:
2 TBS sesame oil
2 TBS toasted sesame seeds
1 TBS green onion (minced)
3 TBS rice vinegar
1 tsp agave nectar or honey (optional)
Adjust seasoning as needed.
Brown Rice
1 cup brown rice
2 cups water
1 TBS coconut oil
1 tsp low sodium chicken flavored "Better Than Bouillion"
Cook as directed.  We like using a rice cooker, but a stovetop is fine.
Sautéed Shishito Peppers
6 oz. shishito peppers
1 TBS Togarashi (Japanese 7-spice)
1 TBS unsalted butter
4 cloves garlic (sliced)
2 TBS yuzu juice
3 TBS avocado oil
1 TBS low sodium soy sauce
salt to taste
In a hot saute pan, add oil until hot and smoking, add Shishitos. Do not flip peppers until they have some color and start to blister, about 3 minutes. Continue sautéing, and add garlic and butter. Deglaze with yuzu and soy sauce and then sprinkle with togarashi.
Remove from heat and enjoy.
Now, in the past when I have done these live stream cooking demos, fans and viewers have offered up ideas and suggestions on how to make them better.  Last Sunday, I went ahead and made a few changes in hopes to accommodate; But I would be lying if I said it all came together seamlessly.
There are definitely a couple of spots where the sound and video quality aren't the greatest. There was some interference from the new induction burner that we tried out, along with some mic issues (burner and mic have since been replaced); and I'm really not so sure if trying to show you guys the "counter action" was actually achieved with that high angle.  Having said that, we still had great fun with our viewers, and the meal was absolutely delicious.  But I think next time, I'm going to see about adding another camera for editing purposes and bring that main one down to a normal, eye level. 🙂
In the meantime, enjoy this silly, raw footage: