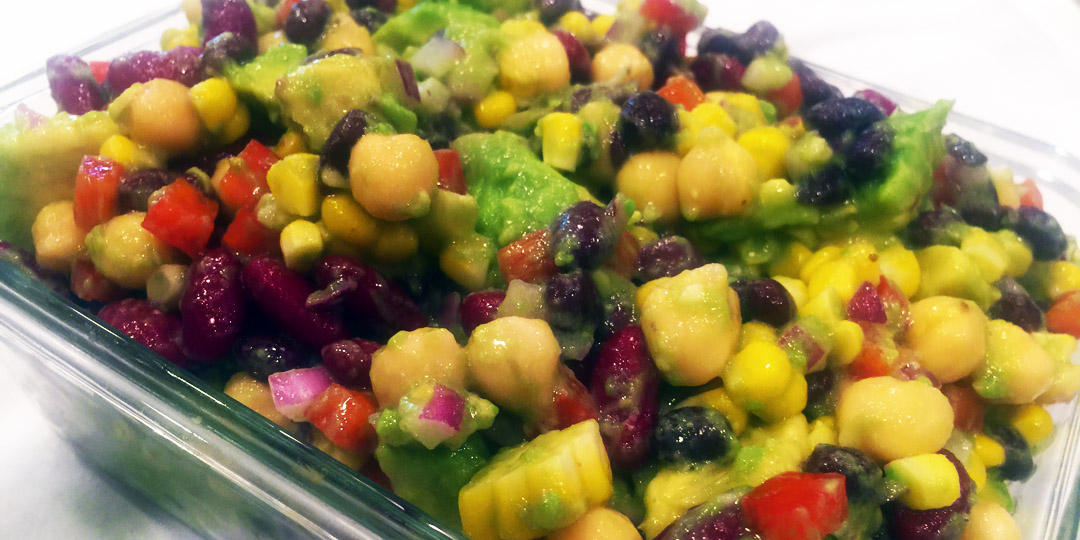 SUMMER BEAN SALAD
Jul 18, 2017
By Dina Meyer
Here's a simple, healthy recipe that's as easy to prepare as it is easy on your wallet.  It's rich in plant-based protein, complex carbohydrates, beneficial dietary fiber, healthy fat, and packed with vitamins and minerals. This salad is not only delicious and filling, it's really, really good for you. As a snack, side-dish or a meal, I make it in the beginning of the week and eat it all week long.   Try it and see for yourself!
1 (15 oz) can (reduced sodium) garbanzo beans
1 (15 oz) can (reduced sodium) kidney beans
1 (15 oz) can (reduced sodium) black beans
1 red bell pepper (small dice)
2 avocados (medium dice)
1- 2 ears of corn  (yield about 15 oz)
1/4 medium red onion (finely diced)
2 garlic cloves, minced
Juice of two limes
1/2 cup avocado oil 
salt and pepper to taste
Drain and rinse beans well and set aside in large bowl. Bring a pot of water to a boil, add corn and cook 5 minutes.  Remove from heat and rinse with cold water.  Carefully avoiding the cob, gently slice off the corn, and add to beans.  Dice the red pepper and onion and add to beans.  In a small bowl, juice the limes, and set aside. Peel and dice avocado, then place into lime juice and coat well. (The citric acid helps to prevent the avocado from turning brown.) Remove avocado from juice and add to bean mixture. Add minced garlic to the lime juice and whisk in oil. Add salt and pepper to the dressing and add to bean salad.  Gently mix ingredients until all is coated, and enjoy .
Note: canned corn can be used if fresh is unavailable.
This recipe was adapted from the noblepig.com
Yaaaasss!! 🙌🙌 You guys got this! 👊 #SAGAFTRA @SeanAstin @MathewModine @MsJoelyFisher
I know I'm a little late to the party but,
I just LOVE #TedLasso

It is a gem. ❤️

Can't wait for Season 2.
Load More...