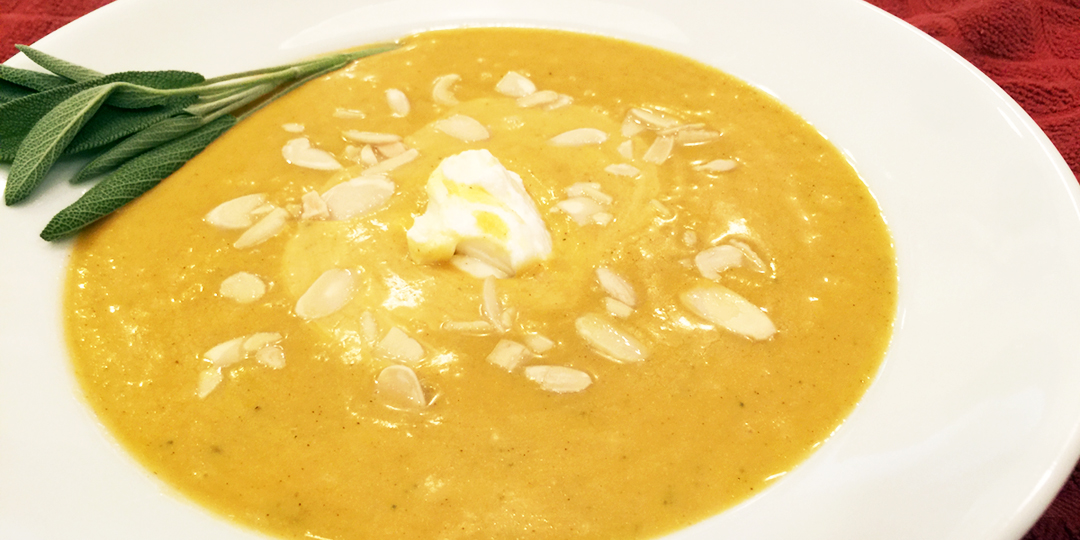 ROASTED BUTTERNUT SQUASH SOUP
Sep 25, 2017
By Dina Meyer
Growing up on the East Coast, I always looked forward to Fall. Leaves on trees changing color, a slight chill in the air, and coming home from school to the welcoming fragrance of whatever mom happened to be cooking for dinner.
There's just something about coming in from the chilly outdoors into a sweet smelling home that always gave me a warm fuzzy feeling inside.
I look forward to cooler days for many reasons; but one of my favorites is that it gives me an excuse to stay inside and make soup!
Today's Autumn inspired recipe is not only healthy and delicious, but it will also make your home smell like a festive pumpkin spice candle. I hope you like it as much as I do. 😉
ROASTED BUTTERNUT SQUASH SOUP
Ingredients:
1 butternut squash (about 2 lbs or 4 cups ) washed, cut, with seeds removed

4-5 TBS olive oil

2 leeks cleaned and trimmed (green leaves removed)

2-3 garlic cloves

2 tsp fresh sage chopped (about 6-7 leaves)

1/2 tsp cinnamon

1/8 tsp nutmeg

1/2 tsp of salt

1/8 tsp cayenne pepper

4 cups chicken or vegetable stock

1- (15 oz) can WHOLE FAT coconut milk
Optional Garnish:
1 tsp greek yogurt

Toasted almonds, hazelnuts, or pine nuts
Directions:
Preheat oven to 400 degrees.
Use about 2 TBS of olive oil to lightly coat the squash. Season with cinnamon, nutmeg, salt and sage. Roast for 25 min or until squash is fork tender. If you only slice the squash in half lengthwise, you will have to cook it for 45 min. (Smaller pieces, less cooking time.) This can be done in advance.
For the soup-
In a hot pot, add 2-3 TBS of olive oil. Add leeks (1 medium chopped sweet onion can be substituted if leeks are unavailable). Once translucent, stir in garlic, cayenne pepper and salt. Mix in roasted squash (skin removed), and add stock. Stir and bring to a boil. Cover, reduce heat and simmer for 15 minutes.
Using a stick blender, puree the soup. A standard kitchen blender can be used as well. Just be sure to puree in batches, filling blender only halfway, and HOLD ON TIGHT TO THE COVER! The heat from the soup will blow it right off, making a mess of your kitchen and burning you in the process. Be careful!
Once soup is blended, stir in the coconut milk (only use whole fat coconut milk, as I've learned the LITE kind will separate.) Salt and pepper to taste.
If the soup is too thick, add more stock or milk to achieve desired consistency.
Remove from heat and garnish with yogurt and toasted nuts.
Vegetarians- Use vegetable stock.
Vegans- Omit the yogurt.
Makes 6 servings.
Enjoy! (it even tastes good COLD!)
🙂
LIVE cooking demo from Periscope
Yaaaasss!! 🙌🙌 You guys got this! 👊 #SAGAFTRA @SeanAstin @MathewModine @MsJoelyFisher
I know I'm a little late to the party but,
I just LOVE #TedLasso

It is a gem. ❤️

Can't wait for Season 2.
Load More...