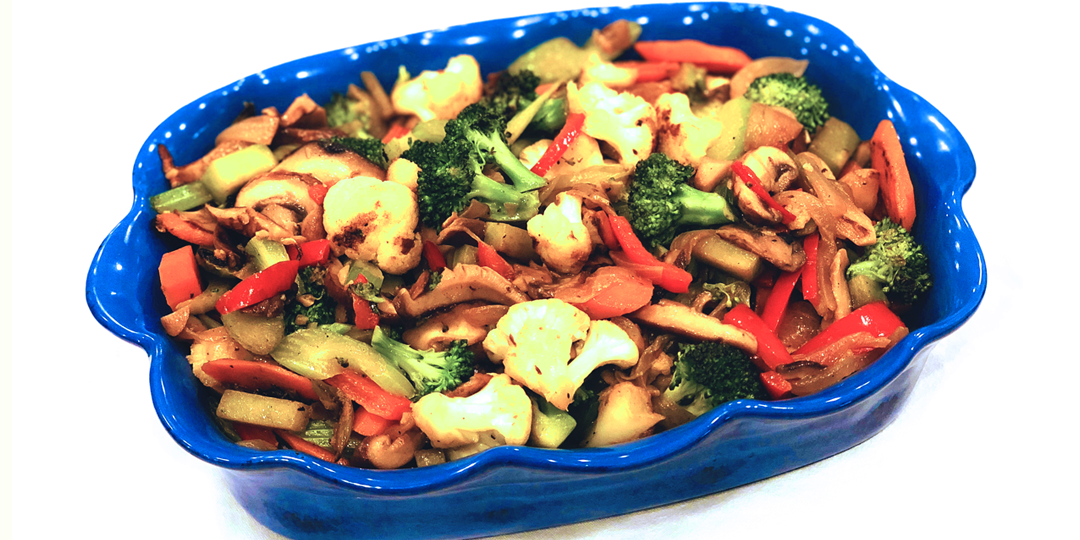 Fool-proof sautéed (stir-fry) vegetables
Honestly, I wasn't going to post this recipe.
I was messing around on Instagram, and posted some video in my "story" of what I was cooking today, and just so happened to receive a bunch of messages and questions about it.  So I thought I would take a few minutes to write the recipe out for you, so you can see how very easy it is to prepare.  You can eat it on it's own, or you can add your favorite protein to the mix and make it a delicious entree.  I usually add sautéed/grilled chicken. 
I personally enjoy the prepping (cleaning and cutting) of vegetables.  I find it very therapeutic.  🙂
But if time is an issue for you, or if you're feeling lazy, or don't have any sharp knives around, then you can always opt for the more convenient, pre-washed, pre-cut, packaged FRESH veggies.   Keep in mind, vegetables and amounts used here are really a personal preference.  Below is just one way to do it.  My way.   If you don't like something, you can always leave it out, or substitute it for another vegetable of your choosing.  It's your kitchen.  You're the boss. 😉
You will most likely need to make this in a few batches, unless you have a giant, commercial sized saute (frying) pan.  I have a large pan, but I still had to make it in 3 batches. 
4 cups of broccoli – divided into small florets, stems peeled and finely chopped

4 cups of cauliflower- cleaned and chopped

20

oz. mushrooms – (I used Crimini and Shitake)  cleaned and sliced

5 stalks of celery- sliced on the bias about 1/2 inch thick

1 medium onion sliced 

1 red bell pepper sliced

4 carrots- peeled and sliced on bias about 1/2 inch thick

4 cloves garlic smashed and finely chopped

1/3 cup (approximately) olive oil DIVIDED 

kosher or sea salt and pepper to taste

On medium/ high heat, in a large hot pan, coat the bottom with (about 3 TBS) olive oil.  Add onion, season with salt and pepper.  Cook until translucent and until they start to brown (color), about 3 min.  Add mushrooms and garlic, add another pinch of salt, and stir into onions.  Drizzle a little more oil into the mixture if it seems dry. Mushrooms will cook down, and begin to caramelize.  Before they burn and stick to the pan, REMOVE and set aside in a large bowl. 
Remove any sticky bits from the bottom of the pan and return pan to heat.  Coat the bottom of the pan again with 3-4 TBS of oil.  Add broccoli and cauliflower. Pinch of salt.  (see a pattern here?)  Stirring occasionally, cook for 5-6 minutes, or until tender and you are able to see some color on the florets.  Remove and add to bowl with mushroom mixture. 
Again, in the same pan, coat the bottom oil, and add remaining vegetables.  Season with salt, and cook until tender.  About 3-4 minutes.
Remove from heat.  Stir into mushroom and broccoli mixture, and serve.
Optional: If you like a little heat, feel free to add a fresh chili pepper or crushed red pepper.
A little soy sauce can also be added, balsamic vinegar or a splash of citrus to brighten it up even more.
Try it and let me know what you think-
Please leave any questions or comments below.
Bon Appetit!
I know I'm a little late to the party but,
I just LOVE #TedLasso

It is a gem. ❤️

Can't wait for Season 2.
In a year where we could all use a little more love-
I'd like to thank you for all of your LIKES!
🥰🙏

These were your faves on IG.
❤️❤️❤️

#TopNine2020 #TOPNINE
Load More...
Instagram
This error message is only visible to WordPress admins
There has been a problem with your Instagram Feed.