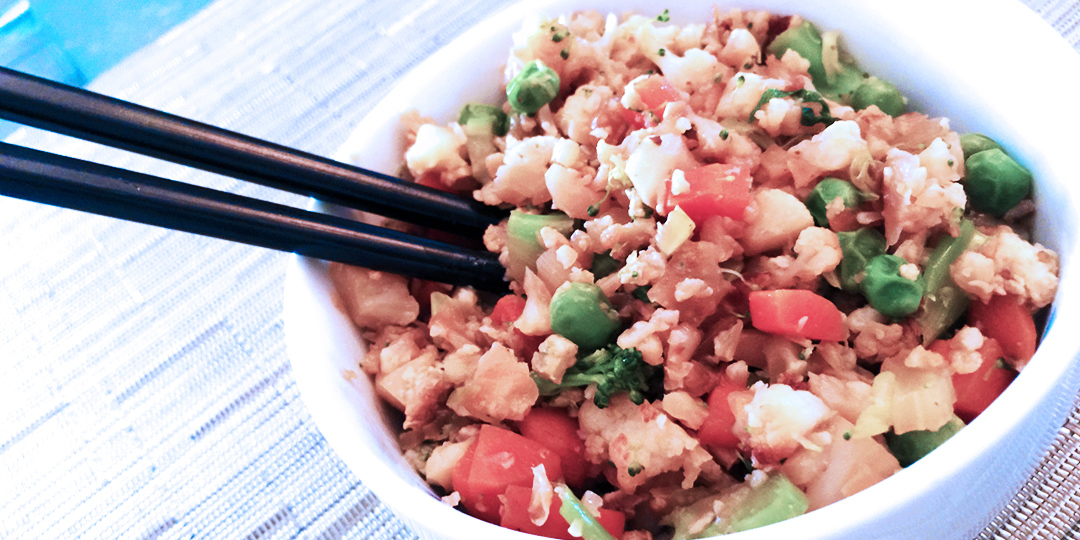 Cauliflower Fried Rice
Aug 23, 2017
By Dina Meyer
I love Chinese fried rice as much as the next gal. I mean, what's not to love about it?  It's delicious; the texture, the flavor, all of it. 
When I was a kid, my mother showed me how to make fried rice with left over white rice.  As an adult, who watches her starchy carbohydrates, I modified the recipe to make it a little more nutritious.  My first modification was the type of rice that I used.  My mom, like most, if not all Chinese Food restaurants used white rice.  But I wanted a healthier version, so I used the more fibrous cousin, brown rice.  It turned out great.
Then, one day I was introduced to quinoa, the healthy, high protein, couscous-y grain. I tried making it the same why I did my fried brown rice.  It was delicious.  Add an egg and some breadcrumbs to the left-overs (if there are any), brown in a pan, and you've got a yummy vegetable quinoa cake.
Well, last week, I received a video demo from a friend where cauliflower was used in the place of rice.  I just had to try it.  No surprise, it was fantastic.  Since then, I ventured out and added a few more vegetables, but after trying it both ways, I can honestly say, I like it best when it's prepared simply.
Give it a shot, and please feel free to ask questions or leave comments below.
INGREDIENTS:
1 head cauliflower

1 egg

2 Tablespoons sunflower or olive oil

1/2 medium onion, chopped

3 cloves garlic, minced

2 carrots

1/2 cup fresh or frozen peas

2 TBS soy sauce 

1 tsp sesame oil

fresh cracked black pepper to taste

3 green onions, diced

2 TBS butter

kosher salt
In a hot pan over med-high heat, add olive or sunflower oil and sauté the onion. Lightly season with a pinch of salt.  Cook about 2-3 minutes or until onions are translucent, then stir in garlic.  Add cauliflower and cook until tender (not too soft) about 3 minutes.  Stir in peas and carrots and another pinch of salt.  Push vegetables aside to expose center of pan, add egg, scramble, and then mix into the vegetables.   Stir in soy sauce, butter, cracked pepper, green onions and sesame oil.
Remove from heat and feed your face. 
🙂
Yaaaasss!! 🙌🙌 You guys got this! 👊 #SAGAFTRA @SeanAstin @MathewModine @MsJoelyFisher
I know I'm a little late to the party but,
I just LOVE #TedLasso

It is a gem. ❤️

Can't wait for Season 2.
Load More...