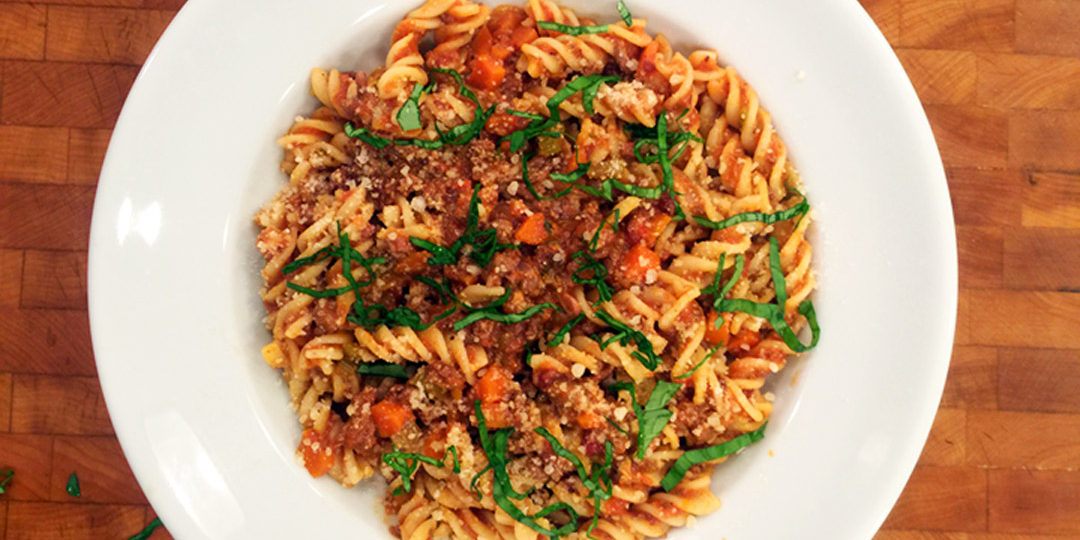 TURKEY BOLOGNESE
Apr 04, 2016
By Dina Meyer
This original recipe came from Rachele Celeste.  I put my own personal spin on it, by adding/modifying a few ingredients (*).  Hope you enjoy it as much as I do!
INGREDIENTS:
4 TBS olive oil 
1 medium onion finely chopped
2 garlic cloves
3 carrots finely chopped or shredded
1 stalk celery finely chopped
1 sprig rosemary finely chopped
1 Tbs Oregano (*)
2 bay leaves
4 basil leaves (chiffonade)
1 lb ground turkey
2 sweet Italian chicken sausage (*)
1/4 cup pancetta finely diced (*)
2 oz. tomato paste
1 C red wine
1 (28 oz) can of plum tomatoes (San Marzano) chopped with puree
salt and pepper to taste
grated parmesan to taste
1/4 C milk (optional)
2 TBS unsalted butter
PREPARATION:
Heat 2 TBS oil in a large frying pan over medium heat. Add the turkey, season with salt and pepper, cook about 6-7 minutes, breaking meat up into small pieces until fully cooked.  Remove from pan and set aside. In same pan, lightly coat with 2 TBS olive oil, add pancetta and cook until golden and the fat has rendered- About 5 minutes.  Add chicken sausage and break up into small pieces while cooking- about 5 minutes.  Push meat aside and in same pan, add onion, and sauté until translucent, about 2-3 minutes. Add the carrot, celery, garlic, rosemary, oregano and sauté until the vegetables are tender, about 5 minutes. Add back the turkey and stir in all meat. Add tomato paste, and stir into mixture. Add red wine and reduce until liquid is half.  Add pureed tomatoes and bay leaves. Salt and pepper to taste.  On lowest heat seating, allow ingredients to cook for at least 1 hour or until tomatoes have reduced and sauce has thickened. Stir in milk and butter if desired.
When ready to use, cooked pasta should be added to a saucepan and tossed with the Bolognese until it is evenly coated.
Garnish with grated parmesan and fresh basil.
RECIPE DEMO ON YOU TUBE:
Yaaaasss!! 🙌🙌 You guys got this! 👊 #SAGAFTRA @SeanAstin @MathewModine @MsJoelyFisher
I know I'm a little late to the party but,
I just LOVE #TedLasso

It is a gem. ❤️

Can't wait for Season 2.
Load More...