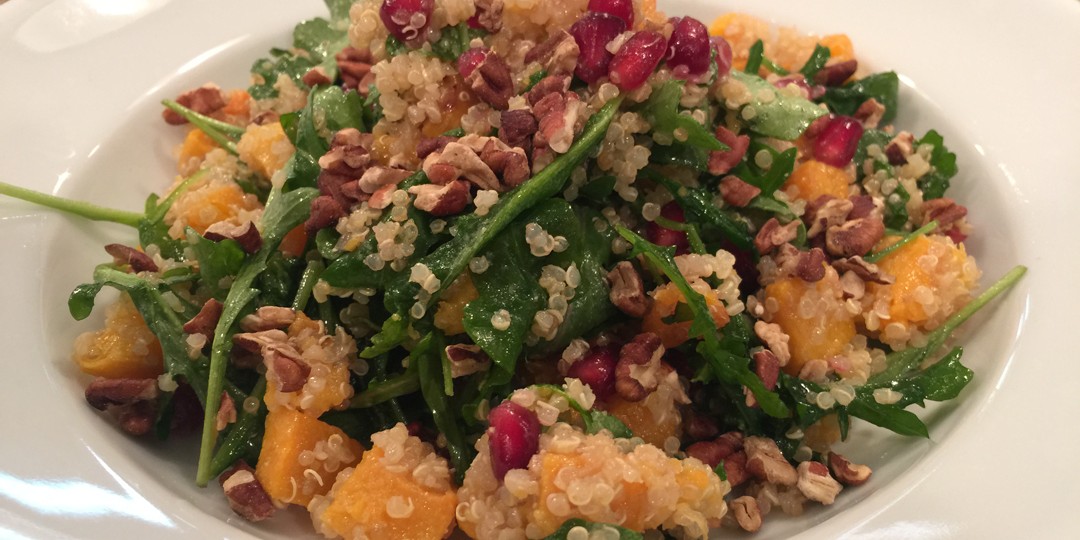 Snacking on Set : QUINOA SALAD RECIPE
Sep 10, 2015
By Dina Meyer
I love to cook.  Many of you know that already. I find it relaxing and therapeutic, and more often than not, quite tasty.  
But like most, I keep a fairly busy schedule, and finding the time to cook can sometimes be difficult. 
I don't cook EVERY day.  I just can't.  So when I do, I cook enough for a few days.  This way, I always have something delicious and nutritious to eat on those days where cooking is just not an option.
So I guess, in a sense, I'm kind of eating leftovers all week.  Ew, right? Gosh, that sounds so…   Now hold on, before you start judging me.  Let's just break this down for a moment. We buy already prepared food at the supermarket which is on the shelf, for who knows how long.  Then, it sits in our fridge or freezer for another couple of days, or perhaps even longer, and that's OK.  Eating prepared food from the supermarket a few days after you bought it, is perfectly fine… Eat food you've prepared at home, a few days later and it's called…  "leftovers."  Well, call it what you may, I eat them all the time, and I am quite happy to do it.
For the past couple of weeks, I've been shooting a little gem of a movie called Fishes and Loaves: Heaven Sent, and while lunches and snacks are provided for cast and crew, I still prefer to bring in snacks of my own which, you guessed it, I prepared at home…
The other day, while the gorgeous and talented, Dominique Swain (who also loves to cook)  and I were taking a break from the "movie magic" we were creating, we sat down and shared kitchen stories and discussed some of our favorite recipes.  Not unlike any other day, I happened to bring in one of my favs and offered her a taste. She liked it, and since lunch wasn't for another hour, we shared the rest, and finished shooting our scene.
I'm posting the recipe of our snack.  Try it!  It's easy to make, keeps in the fridge for several days, so you always have a DELICIOUS, healthy meal even when you don't have time to cook. 
QUINOA BUTTERNUT SQUASH SALAD with Citrus vinaigrette
INGREDIENTS
Salad:
2 1/2 Tbs + 1 tsp extra virgin olive oil
1 1/2- 2 pounds butternut squash, peeled, seeded, and cut into 1/2″ cubes (about 4 cups)
1 cup quinoa, rinsed
2 cups water or vegetable (or chicken) stock (bouillon can be used as well)
3 cups baby arugula, rinsed and spun dry
1/3 cup pomegranate seeds (optional)
1/4 cup chopped pecans (also optional)
Vinaigrette:
Juice of 1 lime
2 Tbs orange juice (fresh squeezed is preferred)
2 Tbs extra virgin olive oil
1 Tbs honey
1 large garlic clove, peeled, finely chopped
1 tsp cumin
1/2 tsp sea salt
PREPARATION
Preheat the oven to 425° F. Place the cubed butternut squash on a baking sheet. Toss with 2 1/2 Tbsp of olive oil and season with a little salt. Spread the squash cubes into a single layer. Roast for 15 to 20 minutes, stirring once or twice, until the squash is tender and beginning to brown. Remove from the oven and set aside.
While the squash is roasting, make the quinoa: Place rinsed quinoa and water or stock into rice cooker, and cook as you would cook rice.  If you don't own a rice cooker, you can warm 1 tsp of olive oil in a heavy medium saucepan set over medium-high heat. Add the quinoa, stirring until toasted, (1 to 2 minutes). Add the water or stock and bring to a boil. Reduce the heat and simmer uncovered until the liquid is absorbed and the quinoa is tender, about 15 minutes. (The quinoa is done when the grains appear translucent, except for a light ring around the middle of each.) DO NOT OVERCOOK (unless you like mush) 😉
While the quinoa is cooking, prepare the vinaigrette.  In a small bowl, whisk together the lime juice, orange juice, olive oil, honey, garlic, cumin, and salt.
Remove the quinoa from the heat, transfer to a large bowl and fluff with fork. Add the roasted squash, arugula and (if using) pomegranate seeds and pecans.  Pour vinaigrette over the quinoa salad and toss well.  Serve warm, chilled or at room temperature. 
Yum.
I know I'm a little late to the party but,
I just LOVE #TedLasso

It is a gem. ❤️

Can't wait for Season 2.
In a year where we could all use a little more love-
I'd like to thank you for all of your LIKES!
🥰🙏

These were your faves on IG.
❤️❤️❤️

#TopNine2020 #TOPNINE
Load More...
Instagram
This error message is only visible to WordPress admins
There has been a problem with your Instagram Feed.