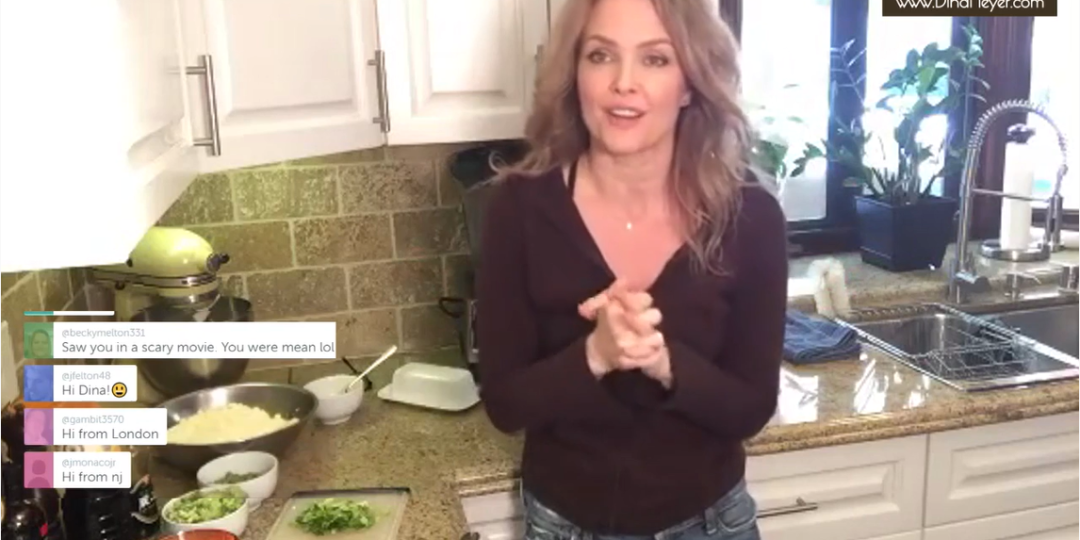 COOKING 'SCOPE SUNDAY
Apr 21, 2018
By Dina Meyer
In NEWS
Back by popular demand, "In the Kitchen, with Dina" returns to Periscope this weekend!  I'm excited to announce that today, we are going to have Chef Jamie Lauren in the house.
Together, we'll be whipping up a delicious Japanese inspired menu, where Chef Jamie is going to show me (and YOU) how to make one of my favorite dishes, "Miso Black Cod", along with some yummy side dishes.
It looks like we'll be going LIVE TODAY at/around 3p (LOS ANGELES time). Follow me on social media, (links at the bottom of the page) for a heads up on the exact time and on PERISCOPE to be alerted when we start streaming. Keep in mind, I do love hearing from you, and thoroughly enjoy seeing your comments while we stream, even if sometimes it can be a bit challenging to read, speak and cook simultaneously. 🙂
Do you have a question that you'd like us to answer?  You can leave it at the bottom of this post in the comments section, or email it to me (DinaMeyerInfo@gmail.com).  If  you're not going to be available to partake in this live streaming event, be sure to check back here, in the BLOG section, where I'll be posting the recipe and video from Periscope.
Cooking, work-out, behind the scenes "Periscope" videos, along with many others can also be found on my YOU TUBE channel. While you're over, there don't forget to hit that SUBSCRIBE button, so you don't miss out on the new stuff.
See you Sunday!
xx
Never miss a post! Check the "notify me of new posts by email" at the bottom of this post under the comment section.
Yaaaasss!! 🙌🙌 You guys got this! 👊 #SAGAFTRA @SeanAstin @MathewModine @MsJoelyFisher
I know I'm a little late to the party but,
I just LOVE #TedLasso

It is a gem. ❤️

Can't wait for Season 2.
Load More...