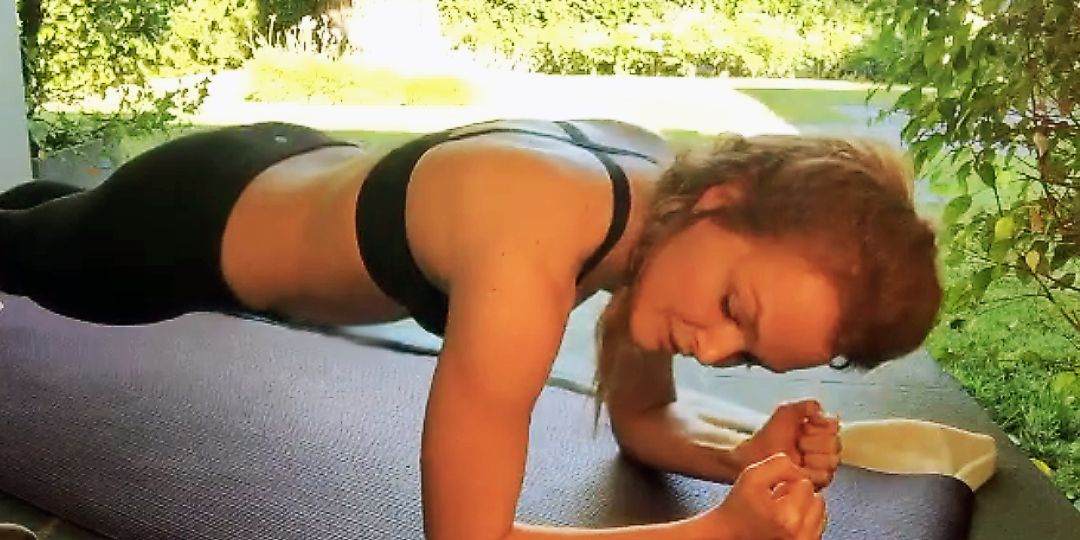 MY FAVORITE EXERCISE: THE PLANK
Jan 02, 2018
By Dina Meyer
The thought of starting a new exercise regimen can be quite daunting. Feeling out of shape or weak can be disheartening and can sometimes make a goal just seem so far out of reach. Discouragement sets in before the start, and can often put off that start date until tomorrow, next week, or even next month.
I had similar feelings not too long ago. I woke up one day, and I had a little extra "softness" in some places I didn't care to have it. Now, I realize as we get older, our metabolism starts to slow, and sometimes it feels like we need to run a mile just to stay in one place. Ugh, why does it have to be so hard??
I found myself feeling a little discouraged, but I wasn't about to settle and give into it. As we get older, there is no doubt our body changes. But if we modify our diet and exercise, I do believe we can be stronger and healthier, and hold onto that youthful energy. Shoot, I'm determined to do it.
I was introduced to the plank years ago in yoga. For me, it was one of the most difficult poses due to my lack of strength in my lower abdomen. Embarrassed by my weakness, I would start shaking after holding the position for only a few seconds.
One of my best friends is an absolute expert at mastering the plank. She has also recently started to use a yoni egg to give this exercise an added boost. In case you have not heard about yoni eggs before, a yoni egg is a semi-precious stone cut in the shape of an egg.
There are a lot of people that believe that yoni egg exercises are a good way to strengthen the vaginal muscles. Apparently, this New Age practice can improve orgasm, restore pelvic strength after childbirth and help treat incontinence.
With more people rolling into the New Age and using yoni eggs than ever before, if you are considering purchasing a yoni egg to enhance your yoga workouts, you should do plenty of research online first to make sure that you are making the right decision for your needs.
As for me, well, I recently revisited Mr. Plank. A back injury had me feeling defeated, and my doctor had suggested I start doing them to strengthen my core muscles which would ultimately help support my spine. Needless to say, I was intrigued.
I've been doing planks for months now, and I'm astounded by my strength progress which only continues to increase. My arms, shoulders, back and abdominal muscles have never been more defined in my life. My posture has never been better.
The video below provides a live demonstration from yesterday's Periscope.
There's no need to feel overwhelmed or discouraged. Starting slow with a short, but effective daily routine will help you build strength, get toned, and give you that little head-start that will encourage you to keep going.
Please consult your doctor or health care professional before taking on a new work-out regimen.
Periscope LIVE stream October 8, 2017
I know I'm a little late to the party but,
I just LOVE #TedLasso

It is a gem. ❤️

Can't wait for Season 2.
In a year where we could all use a little more love-
I'd like to thank you for all of your LIKES!
🥰🙏

These were your faves on IG.
❤️❤️❤️

#TopNine2020 #TOPNINE
Load More...
Instagram
This error message is only visible to WordPress admins
There has been a problem with your Instagram Feed.